Heschel Vision Experience: Night 3
November 19, 2020 | 6:00 pm

-

8:00 pm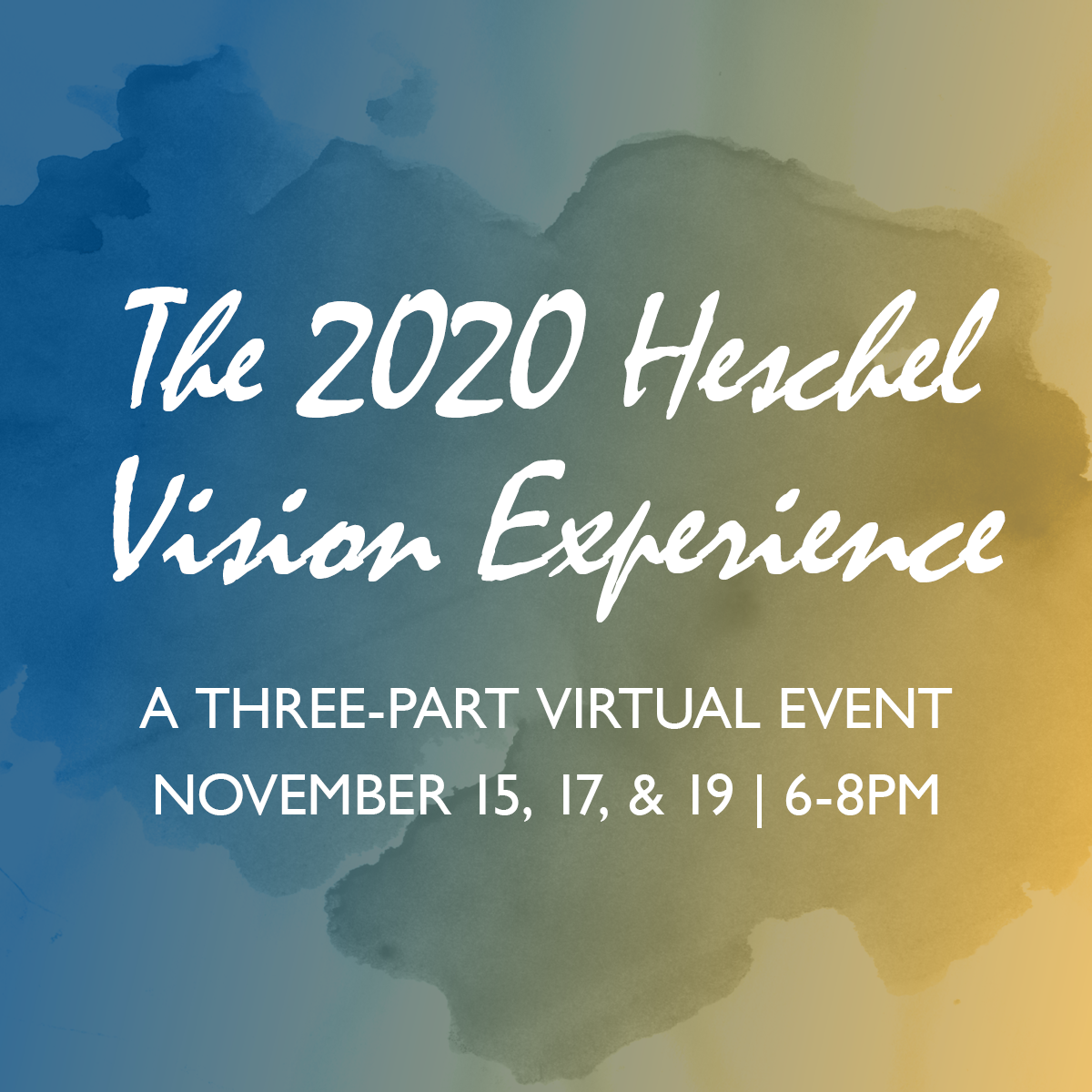 Registration is now open for the 2020 Heschel Vision Experience
Each year, JUFJ's Heschel Vision Awards celebrate members of our community who take action with deep moral commitment and who inspire and empower others.
This year the 2020 Heschel Vision Experience will come together virtually for the first time ever, and will take place over three days: Sunday, November 15, Tuesday, November 17, and Thursday, November 19, from 6:00-8:00PM each evening.
Thursday, November 19 will be Night 3 of the Experience. This night will be a chance to learn about how we're building power in DC, Baltimore, Montgomery County, and Maryland, and how you can be part of it.
Thursday sessions
Racial Equity in DC Government
In DC and around the country, entrenched racism, particularly anti-Black racism, has led to a racial wealth gap, racial educational achievement gap, and the mass incarceration and criminalization of Black people and other people of color. The passage and implementation of the Racial Equity Achieves Change (REACH) Act can push the DC government's policies, programs, and practices to work towards racial equity, instead of worsening the effects of entrenched racism. Learn about JUFJ's involvement in advocating for a strong law, and hear from Alicia Wilson and Dushaw Hockett, our coalition's facilitators, about how more equitable governmental policy and practice could have immense impacts on communities of color in DC.

Eviction Prevention in Maryland
Everyone is entitled to safe, stable, affordable housing, but renters have little agency when faced with threats to their housing. Without eviction prevention policies, hundreds of thousands of Marylanders are facing eviction amid the ongoing COVID-19 pandemic. Advocates are calling on legislators to prevent evictions and provide rent relief. Join Zafar Shah, housing attorney at the Public Justice Center, and Tisha Guthrie, chair of the Bolton House Residents Association, for a discussion of these issues and the ongoing advocacy efforts of Renters United Maryland.

Police Accountability in Maryland
Jewish tradition teaches us that destroying one life is akin to destroying an entire world. Yet Black and brown Marylanders face deadly over-policing and systemic harm every day. JUFJ has been working with coalition partners since 2015 to achieve greater police accountability and to end police violence, but piecemeal reform has not been enough. It is clear that Maryland needs bold and meaningful change to the status quo. In the wake of nationwide uprisings following the murder of George Floyd z"l, now is the moment for that change. Join Dayvon Love, Director of Public Policy at Leaders of a Beautiful Struggle; Yanet Amanuel, Public Policy Advocate at the ACLU of Maryland; and Joe Perez, President of the Hispanic National Law Enforcement Association, National Capitol Region for a discussion about policing in Maryland and the specific statewide changes that advocates are calling for to ensure true police accountability.

Raising Revenue for a Just Recovery in DC
As we work toward recovering from the COVID-19 pandemic, we must hold the District accountable for a truly just recovery that puts people first, advances racial equity, and ensures our city has the revenue it needs to build back better, especially when it comes to investing in the next generation. Join Joanna Blotner, JUFJ's Legislative Director of DC Family and Economic Security Campaigns for a discussion of the work ahead for ensuring a just recovery and a caring economy that works for all of us.
Materials for Night 3's sessions