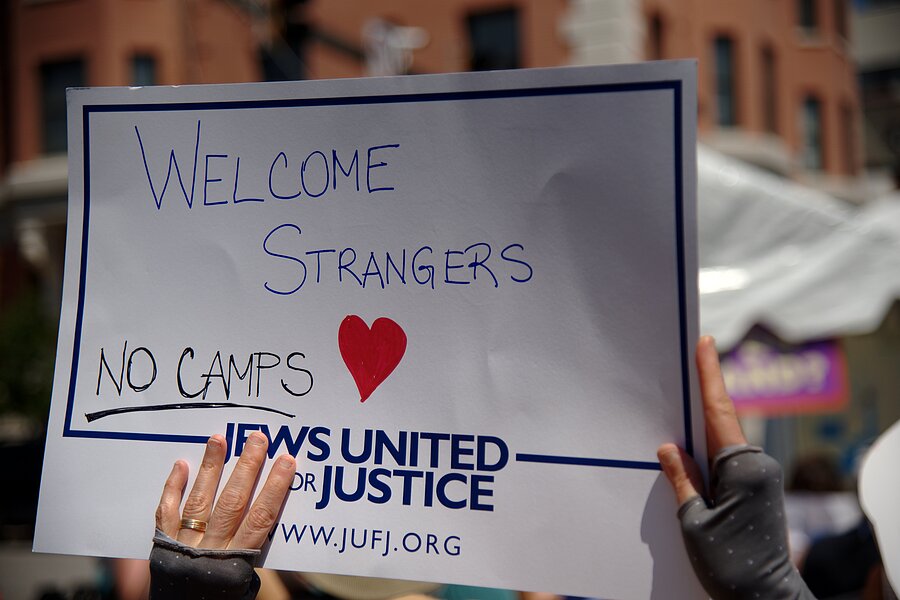 When strangers reside with you in your land, you shall not wrong them. The sojourners who reside with you shall be to you as your citizens; you shall love each one as yourself, for you were strangers in the land of Egypt.
– Leviticus 19:33-34
Federal policies are targeting immigrant communities, including our neighbors, friends, colleagues, and loved ones, with cruel and violent detention and deportation like never before. JUFJ has been working for years alongside immigrants and advocates in Maryland and DC to protect the rights and the safety of local people and communities. Whether it's at the border or here in our own neighborhoods, schools, local businesses, and courts,  we have seen this before, and we will not allow it to continue here.
Across our region and the US, July has been a month of gutting and enraging news stories as well as powerful responses to the growing cruelty in migrant policy and practice. Below are some of the ways in which JUFJ is supporting our allies and demanding justice. In all of our actions, we follow the lead of CASA, Sanctuary DMV, La ColectiVA, United We Dream, and/or Movimiento Cosecha, all powerful voices of migrants in our region and nationally.
Trust Act and Deportation Defense
Montgomery County law enforcement will no longer do the immoral and racist bidding of ICE.
JUFJ has supported CASA in the campaign for a Trust Act in Montgomery County and across Maryland for over a year. In places with a Trust Act, public officials and police are forbidden from turning residents over to ICE for deportation or detention without a warrant and a fair trial. Click below to watch JUFJ leader Sara Nathan's testimony:
"Montgomery County police questioned my former student and his father on May 20. They expected to return home that afternoon. Instead, the county police turned them over to ICE and they remain locked up…When you…visit somebody that you care about and see them behind the plexiglass window and you can only communicate through a phone system, it's heartbreaking."
This past Monday, Montgomery County Executive Marc Elrich signed an executive order instituting a Trust policy for the county. This is a significant and long-fought-for victory in Montgomery County; the order goes even farther than other jurisdictions to safeguard our community from ICE invasions. We will continue to work to codify Elrich's order into durable legislation and to expand these protections to the entire state. 
In addition to the Trust Act, we are also part of a coalition working to provide legal defense for Montgomery County residents who are in danger of deportation and who can't afford their own lawyers. This spring we won over $500,000 in the county budget to pay for lawyers for people facing deportation, including those who are already being detained by ICE.
Never Again is Now
Movimiento Cosecha, Never Again Action, and other groups have coordinated powerful demonstrations confronting ICE at detention centers, at offices, in Congress, and through their corporate sponsors and profiteering collaborators. Hundreds of Jews and immigrants here came together, organized by local groups like La ColectiVA, Sanctuary DMV, and CASA, to show up in anger and grief and to shut down ICE operations. The JUFJ community is galvanized for action:
July 5: JUFJ joined CASA in a march to ICE headquarters in DC.
July 9: JUFJ supported a La ColectiVA and Never Again Action demonstration in Congress that led to eighteen Jews being arrested, including JUFJ staff member Chase Carter. Dozens of JUFJers were there in hope and in prayer.
July 12: JUFJ joined CAIR and CASA in hosting a Lights for Liberty march and vigil and Shabbat candle lighting in Baltimore, and cosponsored a hundreds-strong Shabbat service in DC before the DC Lights for Liberty rally, along with HIAS and several local congregations. Longtime community member Virginia Spatz wrote and gathered prayers and readings for Jews across the country. Awake Storytelling created a beautiful and powerful video of the Baltimore Lights for Liberty rally.
July 16: JUFJ joined two actions: one with La ColectiVA at the home of Amazon's Jeff Bezos, demanding that Amazon stop selling powerful technology that enables ICE surveillance and deportations; one with Movimiento Cosecha and Never Again Action at ICE headquarters, as hundreds of people surrounded the building and shut down normal operations.
July 21: JUFJ organized a demonstration at Baltimore's ArtScape festival calling on two ArtScape funders, Johns Hopkins University and PNC Bank, to stop collaborating with ICE by training their officers and profiting from detention facilities.
August 11: JUFJ and allies organized a demonstration and Tisha B'Av service at the Howard County Detention Center, where ICE rents space to detain people.
Take action now: Call Johns Hopkins President Ron Daniels and tell him to end the university's contacts with ICE: 410-516-8068
Call PNC Bank and tell them to divest from Geo Group and other companies that run private detention centers (and if you have a PNC account, close the account and tell them why, or threaten to): 888-762-2265
UPDATE: PNC has agreed to divest from private detention centers!