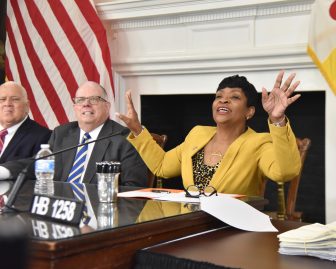 On May 1, 2019, Delegate Adrienne Jones of Baltimore County (District 10) was elected the Speaker of the House of Delegates. Mazel tov / congratulations to Speaker Jones!
Speaker Jones is the first woman and the first person of color to hold this position, and her election is historic for the General Assembly and for all of us in Maryland.
JUFJ looks forward to working with Speaker Jones, and we are excited that the new Speaker represents a District where more than 70 JUFJers live and vote. We look forward to our annual fall meetings with state legislators in Baltimore County and other JUFJ jurisdictions as we head into the 2020 General Assembly legislative session to work together for a more just Maryland.
We hope that Speaker Jones will be a Speaker who will champion available and affordable health care, world-class public schools, a fair and thriving economy, pristine natural resources, a reliable safety net to help those in need, and a commitment to greater justice for all Marylanders regardless of who they are, where they come from, whom they pray to, and whom they love.