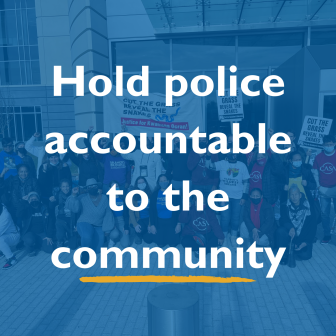 Despite new laws, commissions, and task forces charged with reimagining public safety, six people were killed by law enforcement officers in Montgomery County in 2021. Montgomery County needs to recommit to the work of truly transforming public safety, including robust community oversight of police and investing in non-police institutions that support the needs of vulnerable community members.
Over the past months, JUFJ has joined our partners – including the ACLU of Maryland, Silver Spring Justice Coalition, Action in Montgomery, The League of Women Voters, Racial Justice NOW!, and the NAACP – to strengthen the local bill which established civilian-involved police disciplinary boards in Montgomery County. And along with our partners in the Silver Spring Justice Coalition, Racial Justice NOW!, Muslim Voices Coalition, and others, we have opposed increased funding for a superfluous new branch of the Montgomery County Police Department called the Community Resource Bureau (CRB). 
Click on the tabs below to learn more about the work of JUFJ and our partners on police disciplinary boards and police funding.