Labor Seder 2019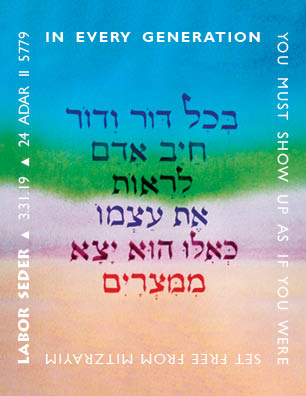 In Every Generation
2019 Labor Seder
Sunday, March 31 / 24 Adar II
5:00 PM – 8:00 PM
Adas Israel Congregation
2850 Quebec St NW
Washington, DC 20008
Join JUFJ for "In Every Generation," our 18th annual Labor Seder!
This year marks the 50th anniversary of the first Freedom Seder and the 20th anniversary of JUFJ's founding. These milestones reflect the eternal nature of our struggle for justice- and the progress we make with each passing year. Join us as we remember what we have achieved and find strength in community for the work ahead. We will return to a traditional seated format for this year's seder, following a light buffet dinner to begin.
If you are giving by check, please mail your check, made out to Jews United for Justice, to:
Jews United for Justice
1100 H St NW, Ste 630
Washington, DC 20005
Please write "Labor Seder 2019" in the memo line.