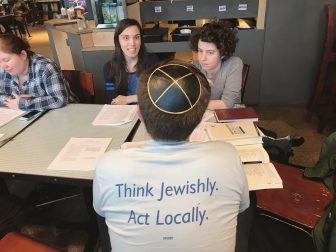 Community, Learning, and Spirituality
In addition to our issue campaigns, JUFJ hosts community events, learning opportunities, and spiritual gatherings throughout our region.
Our annual seders in Baltimore and DC connect the ancient story of Jewish liberation with local struggles happening on our doorsteps today.
Each year at the Heschel Vision Awards, we honor activists who are repairing the world in big and small ways.
JUFJ has partnered with synagogues and community organizations throughout Baltimore, Montgomery County, and DC to teach and learn about antisemitism and white supremacy, about Jewish tradition and social justice, and about issues that matter to our activists and community members.
Through the Jeremiah Fellowship, as well as through partnering with JOIN for Justice for "Don't Kvetch, Organize!," we train Jews in our region to be community organizers, helping them develop skills they need to make change in the world.
In 2008, JUFJ produced our Green and Just Celebrations guide in DC, and in 2012 we collaborated with other Jewish organizations in Baltimore to produce the Baltimore version of the guide.
JUFJ's "Don't Kvetch, Organize!" Spring 2020 Cohort
This spring we are holding our first-ever JUFJ-only cohort of JOIN for Justice's "Don't Kvetch, Organize!" course! This course will examine different ways community organizing has been used to build a more just world for all and how our Jewish tradition and history inform our own commitments and approaches to acting for justice. 
While the JUFJ cohort will use the same materials and curriculum as other "Don't Kvetch, Organize!" courses, there will be a few differences:
The course will be facilitated by JUFJ's DC Senior Organizer, Sarah Novick

The cohort will consist of JUFJ leaders from each of our local jurisdictions — Baltimore, Montgomery County, and DC — allowing us to build community across JUFJ

Discussions will specifically address JUFJ's strategy, values, and campaigns

You will have the opportunity to meet with fellow participants in-person 
See what JUFJ leaders have to say!
"The program provides meaningful Jewish context through readings and video for organizing.  Focused on issue and result-based ideas, Don't Kvetch helped me explore my existing skills and build on them to help JUFJ." -Anita Lampel
"The JOIN for Justice course highlighted one of the organizing tools that JUFJ uses so well — the importance of storytelling to convey the power of any issue.  The course instructors were some of the most experienced Jewish organizers in the country and we heard their stories and how their Jewish values influenced their social justice work.   We also learned all the basic skills about community organizing by delving deeply into a few historic law changes and how the coalitions in those states made them happen."- Carol Stern
Related Events
February 1 | 7:30 pm – 9:30 pm

Join us for our next Maryland Community Meeting where we'll discuss campaign updates and how we can best move our work forward. All are Welcome!

March 2 | 9:00 am – 3:00 pm

Every year on (or near) Purim, JUFJ activists deliver mishloach manot, sweet gifts to our legislators, along with a reminder of our legislative priorities.