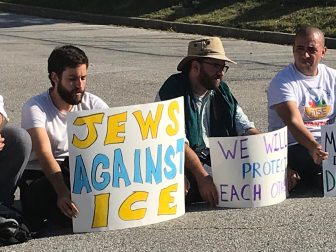 When strangers reside with you in your land, you shall not wrong them. The sojourners who reside with you shall be to you as your citizens; you shall love each one as yourself, for you were strangers in the land of Egypt.
– Leviticus 19:33-34
Federal policies are targeting immigrant communities, including our neighbors, friends, colleagues, and loved ones, with cruel and violent detention and deportation like never before. JUFJ has been working for years alongside immigrants and advocates in Maryland and DC to protect the rights and the safety of local people and communities. Whether it's at the border or here in our own neighborhoods, schools, local businesses, and courts,  we have seen this before, and we will not allow it to continue here.
Several of our ongoing campaigns and actions have had results since we last sent out an update:
Howard County
In August, JUFJ and allies organized a demonstration and Tisha B'Av service at the Howard County Detention Center, where ICE rents space to detain people. Hundreds of Jews, immigrants, and allies gathered in Jessup, MD to call for an end to this enabling of brutality, and hundreds signed our open letter to County Executive Calvin Ball. But Tisha B'Av was not the end of this campaign.
Sukkot commemorates a time when our ancestors wandered the desert with no permanent home. We have a duty to make sure immigrants in Howard County feel that their homes here are permanent, reliable, safe. That is what it is to have a home.
Join us on Wednesday, October 16th at 6:00 PM for a press conference with our partners from Howard County Immigrant Justice Coalition to call on Howard County officials to welcome our immigrant neighbors in the spirit of Sukkot. We are urging them to end their ICE collaboration, which violates the county's human rights policy. Then, join us afterwards at the Howard County Human Rights Commission's meeting to demand justice for our immigrant communities and an end to the contract.
Montgomery County
Montgomery County officials have been fighting for immigrants in our county, and now they are under attack for doing the right thing. Federal government officials are using Twitter to spread fear, demonize immigrants, and attack County Executive Marc Elrich and the County Council for the implementation of the Community Trust Executive Order.
This order prevents county officials from doing the work of ICE and targeting the immigrant community. It enables all residents, regardless of their immigration status, to feel safe and welcome and encourages them to access vital county resources to help their families prosper.
The anti-immigrant attacks are scaring county officials and making them back off from protecting their immigrant constituents from the federal government. Our coalition has crafted a letter to the County; use the button below to contact County Executive Elrich and the Montgomery County Council to tell them: Montgomery County is a welcoming community and we are united in support of our immigrant community.
Baltimore
On July 21, JUFJ organized a demonstration at Baltimore's ArtScape festival calling on two ArtScape funders, Johns Hopkins University and PNC Bank, to stop collaborating with ICE by training their officers and profiting from detention facilities. Both Hopkins and PNC Bank have since cut their ties to ICE!
Stay tuned for more actions to take in Baltimore, and yasher koach/well done to all who took part in these powerful actions.